Arpana Caur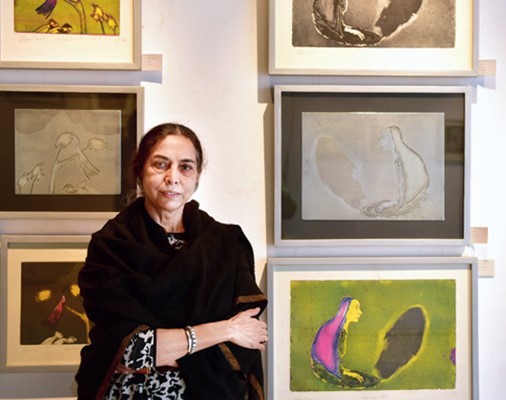 Arpana Caur A well known women contemporary artist of India, Arpana Caur's journey has been a combination of both victimization and celebration of women. The serious perspective that she conveys through her artworks makes a strong statement capturing the prevalent circumstances in the society, especially towards women.
Arpana Caur was born in 1954 at New Delhi, India. She spent her college years studying literature, a self-taught artist her works exhibit a feminist perspective with portraits of women, with the contemporary urban context. Though, there is no overt emphasis on sexuality, as generally understood typically of the female artist. Another area which she captured very critically was the political violence which has gone down in history, such as the Partition of India, 1984 massacre of the Sikhs, and Hiroshima.
Apparently her artworks were greatly influenced by the then-existing miniature & folk art forms. The use of watercolour, gauche, and sculpture – layered with motifs, stories, folklores, and myths were used as references, inspired by the Pahari miniatures. Caur is one of the very first contemporary artists to have collaborated with traditional folk artists. Her artistic perspective has been deeply influenced by Punjabi literature and writers such as Amrita Pritam, Shiv Batalvi, and Krishna Sobti were known to be regular visitors to her house. While the literature of Punjab contributed to the undertones of melancholy and pathos prevalent in her works, themes like Nature, Time, Spirituality, Life & Death played a vital role in the artist's expressions on her canvases.
Interestingly she bagged the name 'Kainchi' because of the use of the 'scissors' as a motif in several of her works. With many awards to her contributions towards art, today her paintings support several projects for the underprivileged, including free vocational training in the Academy of Fine Arts and Literature of which she, with her mother, the renowned writer Ajeet Caur. Founder Member of a leprosy home in Ghaziabad, and Sant Shri Sahib ji's ration projects for poor and old widows all over the country.
The artist lives and works in New Delhi, India.