Madhvi Parekh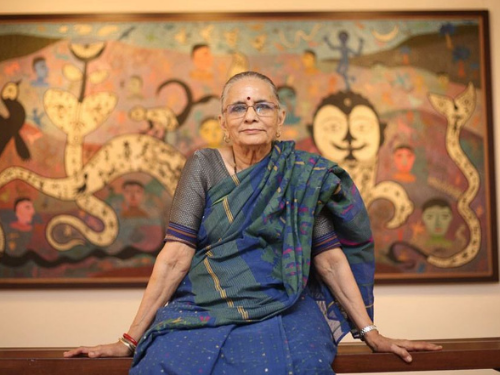 Madhvi Parekh, born in 1942 didn't have any formal education in art, but her works found subjects of her childhood memories that were treasured.
Her paintings often are manifestations of her daily artistic rituals that were a part of her family tradition such as floor designs of rangoli. Profoundly inspired by her artist husband Manu Parekh and other artists like Paul Klee and Miro, Madhvi began to paint in 1964.
In Madhvi Parekh's paintings, one notices the vital role played by the artist's imagination and her deliberate decision to invest the imagery of floor designs practised by women of Hindu households while undertaking festive rituals with realism. She tries to reinterpret these symbols and imagery in her personal artistic styles using imaginary characters in figurative and abstracted forms in her compositions. In most of her works, she uses the settings of Kalamkari and Pichwai enshrining the main character of the composition in the middle and fills the minor or secondary ones in the border. Madhvi Parekh lives and works in Delhi.